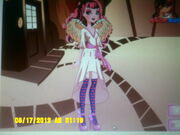 Hi, I am heart cupid, daughter of C.A cupid, don't know my dad, but I know he wasn't in love with mom if he left, cause one thing I know well is love, I know my family's job by heart, bringing love and people together, but I suck at shooting arrows, but I guess I can still learn, but one thing, I have wings. I am 12 years old.
Personality
Hobby's
One thing: love, I love bringing people together, and I love myths, I mean, I am a myth, but I guess I have a true heart for adventure, cause I love going on adventures with Megalisa, Baxter, darcy and maser, they always take me to interesting places, I cant wait for the next one.
Look's
I have mom's light pink hair with some darker pink highlights and I have blue eyes, or I think, don't know, and I have wings and love wearing stuff that matches love and myths.
Relationships
Mom/C.A cupid: I love my mom, she taught me about love and how to do my family's job, but she says things between her and dad didn't go well and he left, well bye to him, not helping mom, but she is cheerful, and I help in the family's job as much as I can.
Megalisa, darcy, Baxter and maser: I found out about them and talked to them and they took me on a wild adventure that made me very excited, I knew I had a adventure in me now, and they take me sometimes, half the time I am bringing people together.
Outfits
Normal: I wear a greek style myth dress robe thing with purple socks that have pink love hearts all over them and I wear them with pink versions of my moms shoes and I wear my hair all curly and sometimes moms headband.
More outfits coming soon...
Adventure
COMING SOON...